Being Given Away FREE Today To People Who Want To Stop Pain In the Neck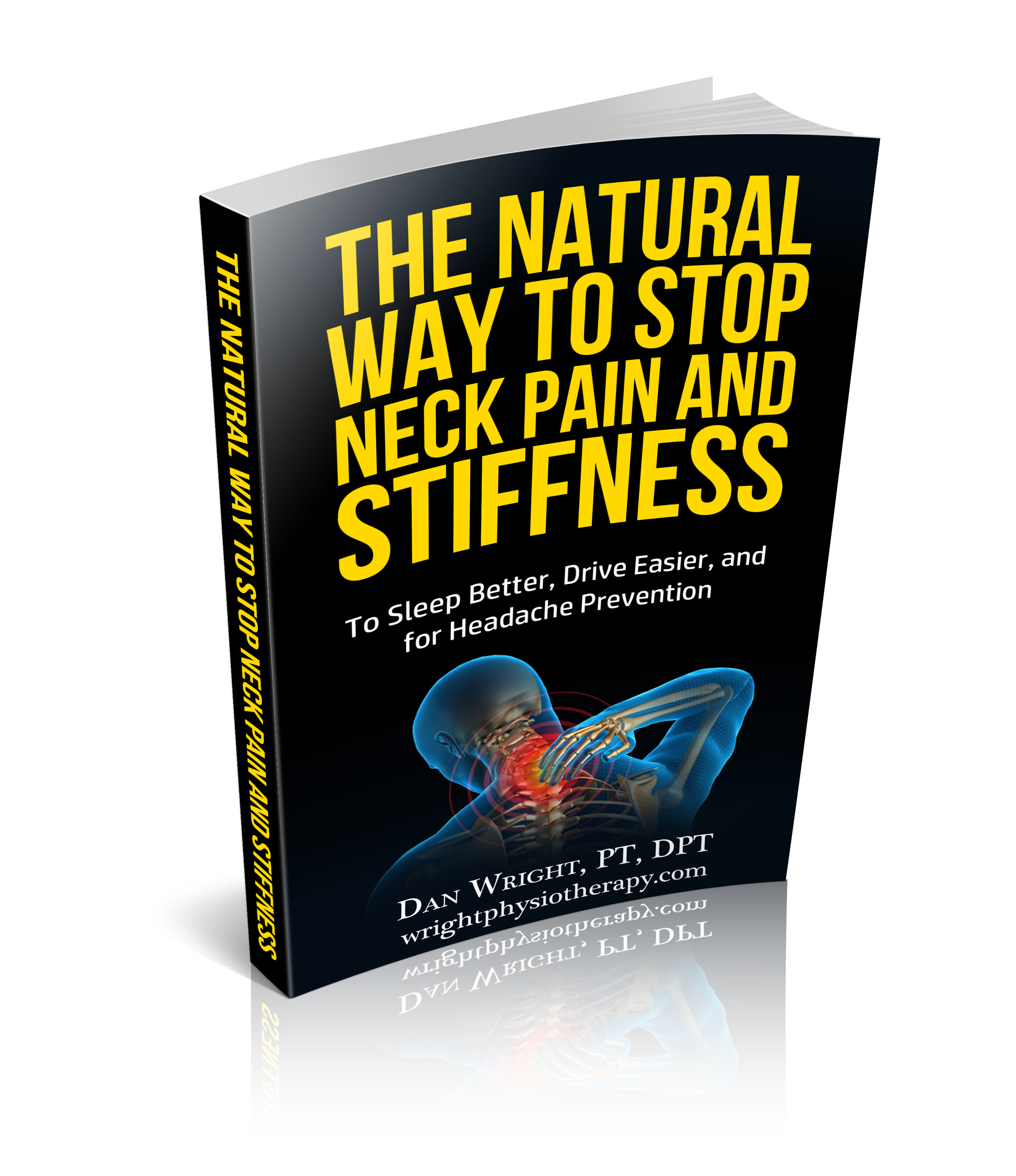 FREE: How To End Daily, Annoying (…And Nagging) Pain In Your Neck BEFORE It Gets Any Worse…Discover The 14 Simple Tips And 5 Exercises That Will Work Even If You've Been Suffering For Weeks, Months, Or Years…And Will Help Anyone Frustrated By The Lack Of Advice Given By The GP Or Just Hoping To Avoid Painkillers Completely!...
I'll Show You EXACTLY How Any Person Suffering With Neck Pain Aged 40+ Can END It QUICK, Before It Gets Much Worse! Yours FREE From Specialist Physical Therapist Dan Wright.
---
Are You Interested in a COMPLETELY FREE "Discovery" Session?  You can sign up for a FREE Taster/Discovery Session, which is a shortened visit with me COMPLETELY FREE to discuss your pain. During this session I will LOOK at your symptoms, LISTEN to you, ANSWER questions, and even give a diagnosis. The Taster Session is not only to see if I am a good fit for you, but also to let me know if you are a good fit for me!  Give me a call to schedule 740-919-6569, visit my contact page and email me, or sign up for one of my FREE reports and I will contact you. 
WANT FREE ADVICE?
"Here's How YOU Can Get In On ALL The FREE Advice Currently Being Given Away By Myself To People Who Want To Know How To Bring A Fast End To Their "Daily, Annoying, And Nagging" NECK PAIN'...Before It Gets Any WORSE!"
...Meaning A Better Night's Sleep, More Energy, Less Worry, And Above All…MORE Freedom To Do Things With LESS PAIN And Less Tension!...

And That Would Be Nice, Right?
CALL NOW:  740-919-6569
From The Desk Of Specialist Physical Therapist Dan Wright,
Let me say this right away - if you're reading this and you and are aged 40+, you are obviously very serious about and protective of your health.  You ARE right to be objecting to the painkillers and GENERIC exercises likely to be offered to you by your GP or general therapist.  You don't need me to tell you that painkillers don't get to the bottom of these types of problems and worse yet, all they ever do is mask the pain, often making it worse in the end.
If you are suffering with DAILY, ANNOYING, and NAGGING Pain in your NECK area, the first thing I want you to know is that I am familiar with your problem.  ALL of your concerns are real and you ARE looking in the right place for a solution to end it fast!
Neck pain is VERY serious and can go hand in hand with shoulder pain with the arrival of one bringing on the other in the not too distant future.
If You Are Worried About What Is Causing Your Pain, Or You Just Feel Let Down By A GP That Wasn't Able To Offer A Proper NATURAL Solution…One That Didn't Involve Harmful Painkillers, Then I'm Here To Help….
I'd like to make abundantly clear that I'm NOT like any of the other Physios out there and that most definitely includes the ones from the big healthcare systems. Let me distance myself from THEM immediately, and know that the advice I give is nothing like the advice you'll ever be given by a GP - simply because I'm a Private Physio, expertly trained and specialising in helping people like you with Neck Pain.
And unlike most GP's these days, I WILL take the time to listen to you and I do want to hear all about what's concerning you.
I've been doing this for more than 10 years and if you're suffering with neck and shoulder pain… one of my goals is to offer you a solution that will let you avoid the need for harmful medication and I want you to be able to completely sidestep the GP and evade the frustration that option, so often causes.
Your suffering is going to end fast. I know exactly what causes this type of pain because I see it EVERY DAY…and despite an often lack of visible signs of damage or injury, that may be a source of confusion, I know what you're suffering from is real and it is painful and that it should NOT be ignored. More importantly, that there is HOPE for a future that doesn't involve you being woken up through the night by your nagging pain and the unwanted tension in your neck, interrupting your good quality of life.
If Your Need Is URGENT, Please Call My SPECIALIST Number Now To Set Up An Appointment To Get Seen Quicker:  740-919-6569
Be Very Wary of Taking GENERAL Advice…
"It's NOT Your AGE And You Do Not Have To Accept It"…
And despite what any GP will tell you – this is unlikely to be anything to do with your age. And NOR do you just have to accept it. It's sad, but true… but so many GP's fail to recognise the warning signs of Neck and Shoulder Pain and FAIL to act before "Nagging and Annoying"… turns SEVERE and PAINFUL.
This type of thing can get worse quick… and is sure to happen if it's just masked with painkillers. And you won't need me to remind you that life would be even more difficult if you're suffering with the severe headaches and intense pain that so often comes along as a consequence of your real, underlying problem, being ignored.
And that's why I want to offer you my help and expertise immediately, without any upfront payment and without delay.
Here's Who I Can Help...
But please know that I am not able to help everyone. And that's why I don't just offer to work with anyone. But if you are aged 40-64+ and can say "YES" to any of the following, then you are right to be looking for solid advice and it's very likely that I'm going to be able to help you in the way that you hope:
     √ You have tension and pain in your neck and shoulder for longer than 9 days. 
     √ Your sleep is disturbed by tightness and tension in your neck and shoulder that worsens at night.
     √ You're suffering from pain DAILY, are concerned and have no idea why it even happened.
     √ You spend a lot of time sitting – and that makes pain worse.
     √ You've only been given painkillers by your GP… but you secretly know that this ISN'T the best option (or the one you want to take).
    √ You've got headaches and or migraines that seem to be getting more intense or more frequent – or you're worried about either coming back on.
No need Worry anymore.  The searching is done.
 I have loads of FREE advice to give on how to End your neck pain once and for all.   If you are still unsure, just think about it.  What have you done so far that hasn't worked?  Medications, rest, ointments, ice/heat, chiropractic care, massage...and look what that got you...STILL WITH NECK PAIN!  Wouldn't it be great if someone could give you some answers about your neck pain that others have not.  Well that is what I can do.  I am specially trained using manual medicine to diagnose and treat neck pain.  The techniques I use are not secretive but they are not widely known and used.  They are treatment techniques that osteopathic physicians used to perform before insurance drove them to only hand out meds.  If you are interested in learning about my specialized treatments, you can contact me in multiple ways to schedule your completely free Discovery Visit where you will learn about your pain, get a diagnosis, and learn how I can help.  Again this is COMPLETELY FREE!
 Call 740-919-6569

Send me an email requesting more information

Opt-in for your free neck pain report
Sign Up For Your Free Neck Pain Report To Start The Process Of Having Less Neck Pain, Becoming More Active Again, Reducing Headaches, Sleeping Better, And All Around Getting Your Life Back In Order!
⇐⇐⇐⇐⇐⇐
---
More About Dan Wright, Specialist Physical Therapist
Dr. Dan Wright, PT, DPT is founder and owner of Wright Physiotherapy.  He graduated from Ohio University's School of Physical Therapy in 2005 and became specialty trained in Osteopathic treatment techniques from Michigan States Osteopathic Medical School.  This has allowed him to become very proficient at helping people with hard to treat neck pain.  He specializes in people with pain in their 40's, 50's, and 60's, but also uses the same techniques to treat younger patients and athletes just as affectively.